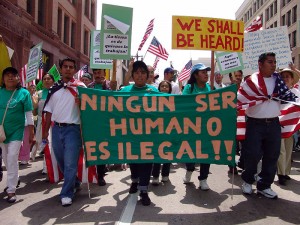 Why does it seem like Barack Obama has been doing everything that he can to sabotage our border security and promote more illegal immigration? The number one responsibility of the president of the United States is to defend our nation, and yet Obama stubbornly refuses to secure our borders. In fact, he has been doing quite a bit to make it even easier for millions more drug runners, gang members and welfare parasites to enter our country illegally. This is utter insanity. Today, the U.S. government makes it exceedingly difficult for law-abiding people to enter this country legally through the "front door", but meanwhile we leave the "back door" completely wide open. What sense does that make? And now Obama is using the sequester cuts as an excuse to totally gut our border security. 60,000 border agents are going to be forced to take mandatory furloughs and thousands of illegal immigrants are being released from federal detention facilities due to "budget constraints". Yet Michelle Obama still has enough taxpayer money to have Adele and Beyoncecome out and sing for her 50th birthday celebration, and the Obamas continue to take extravagant vacations that cost U.S. taxpayers millions of dollars. And most Americans don't even realize that the U.S. government will still spend more money in 2013 than it did in 2012 even after the sequester cuts are factored in. So the government still has plenty of money to do everything that it needs to do. Obama is just using the sequester cuts as an excuse to gut the programs that he does not like, and that includes border security and immigration enforcement.
The sad truth is that Barack Obama never cared about protecting our borders or enforcing our immigration laws. In fact, he has done basically everything that he can within the constraints of the law to make things even easier for illegal immigrants.
The following are 11 things that the Obama administration is doing to promote more illegal immigration…
#1 The Obama administration is using the sequester cuts as an excuse to cut border security to the bone. CNN is reporting that 60,000 border agents will soon be facing mandatory furloughs…
The U.S. government on Thursday notified 60,000 federal workers responsible for securing borders and facilitating trade that they will face furloughs due to government-wide spending cuts.

Customs and Border Protection said it expects furloughs and other austerity will cause delays at ports of entry, including international arrivals at airports, and reduce the number of border patrol officers on duty at any one time.
#2 The Department of Homeland Security says that it will release approximately 10,000 illegal immigrants that are currently being held in detention centers around the nation. The Obama administration says that there is not enough money to hold them any longer. The following is from a recent Fox News article…
The Department of Homeland Security has started releasing hundreds of illegal immigrants held in local jails in anticipation of automatic budget cuts, in a move one Arizona sheriff called politically motivated — and dangerous.

Pinal County Sheriff Paul Babeu said Tuesday that Immigration and Customs Enforcement released more than 500 detainees in his county alone over the weekend. A spokesman for Babeu told FoxNews.com that ICE officials have said they plan to release a total of nearly 10,000 illegal immigrants.
If you are outraged by this, you are not alone. In fact, the official at the Department of Homeland Security that was in charge of immigration enforcement and removal operations actually resigned because of all this.
#3 The head of the Department of Homeland Security, Janet Napolitano, has implemented a case-by-case review of all deportation cases involving illegal immigrants. Cases involving those that have committed crimes will be prioritized and almost all the rest will be thrown out. In essence, this is a form of "backdoor amnesty" that the Obama administration has put into place without going through Congress. I discussed the details of this "backdoor amnesty" in a previous article…
Government officials have now been given a list of 19 factors to use when deciding whether to use "prosecutorial discretion" in deportation cases.

Essentially, what is going to happen now is that illegal immigrants are going to get to stay in the United States if any of the following apply….

-arrival in the U.S. as a young child

-actively "pursuing an education"

-serving or served in the U.S. military

-spouse of someone in the U.S. military

-18 years old or younger

-"elderly"

-pregnant or nursing

-victim of a "serious crime"

-serious disability or health problem

-caring for a family member with a serious disability or health problem

As you can see, these categories are so broad that almost all illegal immigrants will be able to fit into at least one of them.
#4 The Obama administration wants immigrants to know that just because they are getting food stamps that does not mean that it will hurt their chances of becoming United States citizens. The following is from a recent Daily Caller article…
The United States Department of Agriculture has been working to dispel immigrants' concerns that getting on Food Stamps will harm their chances of becoming U.S. citizens.

The USDA addresses those fears in Supplemental Nutrition Assistance Program, or food stamp, brochures it distributes to Mexican consulates as part of its "partnership" with the Mexican government "to help educate eligible Mexican nationals living in the United States about available nutrition assistance."

In one portion of the brochure, USDA's text asks, "If I get on SNAP benefits, will I be a 'public charge?'" The brochure then answers: "No. You and your family can apply for and receive SNAP benefits without hurting your chance of becoming U.S. citizens."
#5 The federal government actually has a website that teaches immigrants how to sign up for welfare programs once they arrive in the United States. On WelcomeToUSA.gov, immigrants are encouraged to sign up for all of the "government benefits" that they are eligible for. Here is an excerpt from that page…
Depending on your immigration status, length of time in the United States, and income, you may be eligible for some federal benefit programs. Government assistance programs can be critically important to the well-being of some immigrants and their families. Frequently, however, there is a lack of information about how to access such benefits. Benefit programs can be complicated and you may be given misleading information about how they operate.
Sadly, once immigrants get on welfare they tend to stay on it for a very long time. For example, one study found that 43 percent of all immigrants that have been in the United States for at least 20 years are still on welfare.
#6 Barack Obama sees the upcoming "immigration reform" bill being pushed through Congress as an opportunity to grant amnesty to millions upon millions of immigrants that have come into the United States illegally…
Source: http://endoftheamericandream.com/archives/11-things-that-the-obama-administration-is-doing-to-promote-more-illegal-immigration